Beauty & Self
Books & Music
Career
Computers
Education
Family
Food & Wine
Health & Fitness
Hobbies & Crafts
Home & Garden
Money
News & Politics
Relationships
Religion & Spirituality
Sports
Travel & Culture
TV & Movies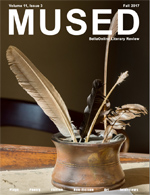 Autumn is a season for counting our blessings. For realizing just how much we have in life where so many others are without. It can often be easy to take things for granted. Things which millions of people desperately dream of having. By pausing for a moment, and looking around with mindfulness, we can find a new center. Begin with fresh energy.

Enjoy the Mused Autumn Equinox 2017 Issue



How to Reduce Clutter for Stress Relief
Natural Living - Katherine Tsoukalas, Editor

Learn how to reduce clutter so that you can relieve stress.




All These Perfect Strangers Book Review
Suspense / Thriller Books - Karen Hancock, Editor

Penelope Sheppard has received a scholarship at a prestigious college in Australia. Death seems to follow her around, and three of her fellow students are murdered. There is much suspense in this psychological thriller.




Folklore - Ballads
Folklore and Mythology - Ky Greene, Editor

Ballads are stories set to song, and they have been a part of Folklore since the Middle Ages. While ballads originated with wandering minstrels, the introduction of the printing press caused them to slowly dwindle. Some folk ballads remain today -especially in the mountains - but there has been a tu




30 Tat. Designs 2" Beveled Glass - Carolyn Craig
Tatting - Georgia Seitz, Editor

Carolyn Craigs "30 Tatted Designs for 2 inch Beveled Glass" book review.




Ozark
Prime Time TV - Maria Brown, Editor

From the increasingly popular original content creator, Netflix, comes a new drama staring Jason Bateman as financial planner, Marty Byrde who relocates his family to the Ozarks in an effort to launder money for a Mexican drug cartel.




Carrot Halwa Recipe
Indian Food - Sadhana Ginde, Editor

Hmm, carrots for dessert? Really?!? Only in India :-) My easy to prepare Carrot Halwa is a delicious & beloved dessert enjoyed throughout the country. This traditional dessert may sound strange, but trust me - one heavenly little bite, and you will be hooked for sure - so try it soon!


| Google+ |
E D I T O R R E C O M M E N D E D
From Pain to Parenthood


Follow one womanīs incredible and heartfelt journey from the pain of miscarriages to the joy of becoming a parent through adoption. Filled with honest, raw emotions and helpful coping tips, "From Pain to Parenthood" promises to touch your life with a real story that shows the power of the human spirit and the beauty of a motherīs love.
Make Clothes for 18 Inch Dolls


With this book you can make a complete wardrobe for 18 inch dolls; including dresses, pants, jewelry, a bag and a crocheted outfit.
Investing $10K in 2015


Have you received a windfall or inheritance? Confused how to manage it? Many people find the subject of investing to be complex. It doesnīt have to be. You can manage your money yourself.