Beauty & Self
Books & Music
Career
Computers
Education
Family
Food & Wine
Health & Fitness
Hobbies & Crafts
Home & Garden
Money
News & Politics
Relationships
Religion & Spirituality
Sports
Travel & Culture
TV & Movies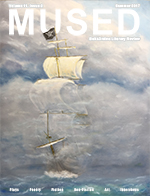 Our time on this Earth is fleeting and precious. We often know that in a vague, intellectual sense, and yet we can find ourselves whittling away those finite minutes without mindful thought. We should celebrate the beauty in a child's smile. The radiant sound of saying "I love you" to that special person. The warm touch of a hand. The delicate scent of a wildflower.

Enjoy the Mused Summer Solstice 2017 Issue



Beautiful Planet Ė film review
Astronomy - Mona Evans, Editor

The Milky Way contains billions of stars and planets, but Earth is to us the most beautiful. The thin skin of our atmosphere protects us from many space hazards, but can't protect life on Earth from human-made hazards. Tony Meyers's new film A Beautiful Planet 3D says only we can do that.




The Great Die-Up
History - Vance Rowe, Editor

The winter of 1886-87 was particularly brutal in the then territories of Wyoming, Montana, and the Dakotas. Millions of cattle died and basically ended the cattle industry as it was known then.




Beauty And The Beast (2017)
Movie Mistakes - Isla Grey, Editor

Can Belle fall in love with an ominous Beast? Try to find these movie mistakes in 2017's "Beauty and the Beast".




Gone Black Book Review
Suspense / Thriller Books - Karen Hancock, Editor

Nicholas Black and Claire Morgan are finally tying the knot, but Black is kidnapped on his way home from France, and doesn't make it to the wedding. He is being tortured, and needs help. Claire and Black just may not survive.




The Constitution and Public School Policy
School Reform - Maeve Maddox, Editor

An irony of the current turbulence in public education is taking us back to the beginnings of the Republic, when only the people with means could educate their children.




The Joy of Plumbing
Self Development - Dr JOY Madden, Editor

'The Joy of Plumbing' by Hattie Hasan can be used to take your life into new directions - whatever your age. It is a book of self discovery & self belief. This self development review gives insight into a book that will also make you look at water, plumbers and plumbing in a totally different way!


| Google+ |
E D I T O R R E C O M M E N D E D
Investing $10K in 2014


Looking to invest in 2014? This EBook will show you how to create a simple portfolio that helps you invest successfully in any year.
Paradise in Plain Sight


Paradise in Plain Sight: Lessons from a Zen Garden by Zen Priest Karen Maezen Miller, is both memoir and Zen guide. Maezen Miller shares experiences repairing and tending a historical Japanese garden in her own backyard, guiding the reader towards direct insight. It is beautifully written, honest, and relevant to the modern seeker of any faith.
Turn On Your Inner Light by Debbie Mandel


This entertaining book offers easy to implement stress-management tools for 29 common life situations: techniques, visualizations and a fitness workout to get you off the couch. Take back your power and live more energetically. Donít vent - reinvent!