Beauty & Self
Books & Music
Career
Computers
Education
Family
Food & Wine
Health & Fitness
Hobbies & Crafts
Home & Garden
Money
News & Politics
Relationships
Religion & Spirituality
Sports
Travel & Culture
TV & Movies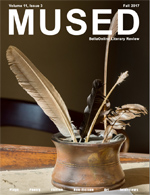 Autumn is a season for counting our blessings. For realizing just how much we have in life where so many others are without. It can often be easy to take things for granted. Things which millions of people desperately dream of having. By pausing for a moment, and looking around with mindfulness, we can find a new center. Begin with fresh energy.

Enjoy the Mused Autumn Equinox 2017 Issue



Lovely Tatting Doilies Fall and Winter Hye-oon Lee
Tatting - Georgia Seitz, Editor

Hye-oon Lee, author of "Lovely Tatting: Doilies for Spring and Summer," has published a new book! English. Hye-oon presents many doily patterns with traditional edgings. Most of those in this book feature open centers instead of the round center ring




Giving Books for Gifts
Reading - Connie Mistler Davidson, Editor

With the emphasis on electronics, the tradition of giving books has gone out of vogue, at least in some parts of the world. Not so in Iceland. Books are considered a precious present for the holidays. How can you make this sweet tradition a part of your family's holiday season?




ADD and Family Holidays
Attention Deficit Disorder - Connie Mistler Davidson, Editor

Many groups celebrate their holiday customs in the early winter. For families who have members with Attention Deficit Disorder, these holidays can be trying. The family routine goes right out the window. How can you make this a great holiday season while spending time with family & friends?




Candied Butternut Squash and Sweet Potatoes Recipe
Sandwiches - Connie Mistler Davidson, Editor

When can a sweet potato casserole taste great and have better nutrition than its more traditional cousin? Find out when you make this lighter luscious version that tastes like candied yams. Butternut squash replaces part of the sweet potatoes and it has fewer carbs and fat, but delicious taste.




Fish Pakoras Recipe
Indian Food - Sadhana Ginde, Editor

My delicious Fish Pakoras are crispy on the outside but tender & flaky on the inside. These tasty fish fritters work well as an appetizer or even as a side dish. They are a huge hit with guests & especially with the kids. Try them today using your favorite variety of fish.




State Beach Camping in Santa Barbara
California - Korie Beth Brown, Ph.D. , Editor

A vacation in Santa Barbara needn't be expensive. These five campgrounds offer recreation, relaxation, and economy.


| Google+ |
E D I T O R R E C O M M E N D E D
Suzanne Somers´ Eat Great, Lose Weight


No one knows the struggle of dieting and weight loss better than Suzanne Somers. Through experimentation and countless consultations with physicians, she lays out a fool proof plan on how to eat great food and still lose weight.
Ordinary People as Monks and Mystics


This non-denominational book is appropriate for any religious path, and helps you to explore your spirituality whether you are more of a mystic or more of a monk. Both approaches are valid.
Building School Success with ADD


Finally, there is help for kids with ADD who hate school. This small book is filled with practical tips to make school life better for students with ADD! Use this book to make a positive start this year. Building School Success with ADD can make a difference.