Beauty & Self
Books & Music
Career
Computers
Education
Family
Food & Wine
Health & Fitness
Hobbies & Crafts
Home & Garden
Money
News & Politics
Relationships
Religion & Spirituality
Sports
Travel & Culture
TV & Movies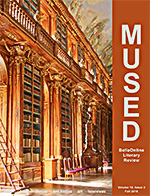 The autumn equinox, that balance point of light and dark, is closely tied to the moon. In China the Moon Festival happens around the autumn equinox, celebrating gratitude and the warmth of good friends and family. This year it was Sept 15th. Our last eclipse of 2016 was a penumbral lunar eclipse on Sept 16th. It fell in conjunction with the full harvest moon, also a symbol of thankfulness and appreciating those who care about you. The autumn equinox is a perfect time to add to those celebrations. It's a wonderful moment to treasure all we have and to share warmth with those who support us.

Autumn Equinox 2016 issue of Mused

Joy Of Collecting
Stamps - Gary Eggleston, Editor

An introduction to collecting stamps.




Roman Coin Helps Date Site
Coin Collecting - Gary Eggleston, Editor

Coins can help to serve the same purpose as can an index fossil. Coins can help to date an archaeological dig site in a much similar fashion as can a fossil help date the strata in which the fossil is found. The important part in both scenarios is for the find to be documented in its proper context




Pomegranate Description and Distribution
Landscaping - Connie Krochmal, Editor

The pomegranate is the sole member of the pomegranate family. Moderately long lived, these can bear good fruit crops for 20 years or so.




Uterine Blood Flow Problems and PCOS
Infertility - Hannah Calef, Editor

Women with PCOS may need to take steps to improve uterine blood flow to increase the chances of conceiving.




Orionids – Crumbs of Halley's Comet
Astronomy - Mona Evans, Editor

The most famous comet is Halley's Comet. English astronomer Edmond Halley didn't discover it, but did discover that it came visiting every 75-76 years. If you can't wait until 2062 for the next visit, you can see the Orionid meteor shower which is created by debris from Halley's Comet.




Healthy Halloween recipe
Allergies and Colds - Sheree Welshimer, Editor

Snack on pumpkin-spice kale chips instead of candy.


| Google+ |
E D I T O R R E C O M M E N D E D
Grave Mercy


Grave Mercy by Robin LaFevers is set in medieval Brittany and features Ismae, a seventeen year-old peasant girl turned assassin who must pose as the mistress of principled knight Duvall in a secretive land of supernatural visions and imminent invasion by the hated French.