Beauty & Self
Books & Music
Career
Computers
Education
Family
Food & Wine
Health & Fitness
Hobbies & Crafts
Home & Garden
Money
News & Politics
Relationships
Religion & Spirituality
Sports
Travel & Culture
TV & Movies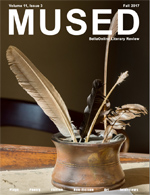 Autumn is a season for counting our blessings. For realizing just how much we have in life where so many others are without. It can often be easy to take things for granted. Things which millions of people desperately dream of having. By pausing for a moment, and looking around with mindfulness, we can find a new center. Begin with fresh energy.

Enjoy the Mused Autumn Equinox 2017 Issue



Broadleaf Evergreens for Holiday Decorations
Landscaping - Connie Krochmal, Editor

Add a natural touch to your holiday decorating scheme with fresh greenery. A number of broadleaf evergreen plants are suitable for holiday decorations.




Unexplained Infertility And Natural Killer Cells
Infertility - Hannah Calef, Editor

Elevated levels of natural killer cells (NK) - the good guys that keep you healthy - may make women infertile too!




Body Care Holiday Gift List 2017
Body Care - BB Lee, Editor

This year, the gift list is all about health and comfort. The holiday gifts on this list are also practical and very affordable. Check out the 2017 Body Care Gift List.




Turmeric Tea Benefits and Golden Milk Tea Recipe
Tea - Mary Caliendo, Editor

The benefits of turmeric tea discussed and recipe for Golden Milk Tea




Sew a Clothespin Doll
Sewing - Cheryl Ellex, Editor

Of all the delightful things to handcraft or sew as ornaments clothespin dolls will surely bring a smile as they hang serenely with festive candy canes, jolly Santas, and smiling snowmen on a decorated holiday tree.




Routine Cleaning for Company Clean Results
Cleaning - Tammy Judd, Editor

Cleaning for company doesn't have to be stressful. If you keep in mind a few helpful tricks that will make cleaning even easier, it will be even faster!


| Google+ |
E D I T O R R E C O M M E N D E D
Ordinary People as Monks and Mystics


This non-denominational book is appropriate for any religious path, and helps you to explore your spirituality whether you are more of a mystic or more of a monk. Both approaches are valid.
Building School Success with ADD


Finally, there is help for kids with ADD who hate school. This small book is filled with practical tips to make school life better for students with ADD! Use this book to make a positive start this year. Building School Success with ADD can make a difference.
The Eye of Adoption


Jody Cantrell Dyer´s down-to-earth, honest account of her experiences with infertility and the adoption process will have you laughing and crying. Perfect for anyone interested in learning more about adoption!