Beauty & Self
Books & Music
Career
Computers
Education
Family
Food & Wine
Health & Fitness
Hobbies & Crafts
Home & Garden
Money
News & Politics
Relationships
Religion & Spirituality
Sports
Travel & Culture
TV & Movies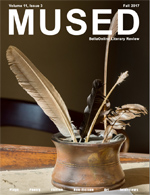 Autumn is a season for counting our blessings. For realizing just how much we have in life where so many others are without. It can often be easy to take things for granted. Things which millions of people desperately dream of having. By pausing for a moment, and looking around with mindfulness, we can find a new center. Begin with fresh energy.

Enjoy the Mused Autumn Equinox 2017 Issue



Cranberries during Colonial and Pre-Columbian Eras
Landscaping - Connie Krochmal, Editor

Long before the European colonists arrived, the Native Americans used cranberries for making pemmican. It didn't take long for white settlers to learn about the edible berries.




Harry's Spooky Surprise! Read Aloud Review
Reading - Connie Mistler Davidson, Editor

Harry's Spooky Surprise, by n. g. k. and illustrated by Janelle Dimmett, is the best book of its type that I have seen in years. I highly recommend this future classic for parents and teachers of young children. The charming prose and glorious pictures show friendship and gratitude in action.




Essential Guide To Aromatherapy Massage Oils
Body Care - BB Lee, Editor

The fact is that essential oils are for health, beauty, cosmetic, and health purposes. The nature based oils heal the body, reduce stress, rejuvenate the skin, and treat a wide variety of common ailments.




INTERVIEW 2 Evelyn Rainey
SF/Fantasy Books - Evelyn Rainey, Editor

The second of two interviews with American educator, author and publisher Evelyn Rainey




Invisible Zipper Tips
Sewing - Cheryl Ellex, Editor

It can be done. It is possible to sew an invisible zipper with great results. Actually it is not the zipper itself that is "invisible" just the fact that the sewn zipper is concealed, visually hidden from the outside and neatly tucked within a seam allowance once zipped closed.




5 Daily Cleaning Tasks
Cleaning - Tammy Judd, Editor

If you are feeling overwhelmed by your home and its lack of cleanliness, look no further. In this article I will lay out 5 simple tasks that you can do DAILY to feel like your house is FINALLY getting clean.


| Google+ |
E D I T O R R E C O M M E N D E D
Simple Delicious Italian Recipes


Simple Delicious Italian Recipes. Authentic Italian recipes easy to follow and simple to prepare, written by Cinzia Aversa, Italian Food Editor at BellaOnline.com. A perfect gift idea for any Italian food lover.
Ordinary People as Monks and Mystics


This non-denominational book is appropriate for any religious path, and helps you to explore your spirituality whether you are more of a mystic or more of a monk. Both approaches are valid.
Building School Success with ADD


Finally, there is help for kids with ADD who hate school. This small book is filled with practical tips to make school life better for students with ADD! Use this book to make a positive start this year. Building School Success with ADD can make a difference.