Beauty & Self
Books & Music
Career
Computers
Education
Family
Food & Wine
Health & Fitness
Hobbies & Crafts
Home & Garden
Money
News & Politics
Relationships
Religion & Spirituality
Sports
Travel & Culture
TV & Movies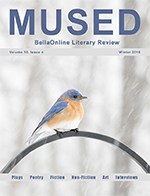 Sometimes it seems as if winter quotes make winter out to be a necessary evil which exists only for us to appreciate the subsequent warmth. Shelley: "If winter comes, can spring be far behind?" Shakespeare: "Now is the winter of our discontent made glorious summer by this sun of York." Hugo: "Laughter is the sun that drives winter from the human face."

But winter is far more than a down against which to compare the subsequent ups. Winter is a powerful, magical time. It is a season of strength. Of looking inward and finding focus. Bob Seger stated, "I write probably 80 percent of my stuff over the winter." Terri Guillemets reminds us, "The color of springtime is in the flowers; the color of winter is in the imagination." The Winter Solstice is a time to embrace the mysterious. The endless possibilities. The sense that we already have, within ourselves, boundless creativity and opportunity. We simply have to still ourselves and listen.

Winter is a powerful season. It gives us that space to look back and learn from our history. To look forward and envision what we wish to become. To be fully mindful of the present and be aware how each day has potential for us to speak out and impact the way our world proceeds. To move us toward peace, fulfillment, and an appreciation of what each of us has to offer.

Happy Winter Solstice.

Enjoy the Mused Winter Solstice 2016 Issue



Distractions Be Gone
Learning Disabilities - Celestine A. Gatley, Editor

Distractions are all around us. No matter what we set out to do, we often face distractions. There seems to be a roadblock to our goals. We have the inability to get anything done. With a simple plan, we can minimize or even eliminate our distractions and accomplish our goals.




Metta Meditation
Yoga - Korie Beth Brown, Editor

Here's a simple meditation to open your heart and change your life!




Intarsia Knitting
Knitting - Korie Beth Brown, Ph.D., Editor

Intarsia goes in and out of style. It's a great technique for warm-weather knits!




Devil's Punchbowl
California - Korie Beth Brown, Ph.D. , Editor

Get away from the crowds and go hiking at this geological wonder only an hour and a half northeast of Los Angeles!




Melatonin Update
Infertility - Hannah Calef, Editor

Melatonin help for poor ovarian reserve




Presidential Whiskey Cake Recipe
Desserts - Karen Hancock, Editor

Looking for a good dessert to serve on President's Day? This easy whiskey cake is similar to one that George Washington ate, and other early presidents too.


| Google+ |
E D I T O R R E C O M M E N D E D
Visual Link Spanish


Spanish language, interactive lessons. You can try 11 lessons for free. I´ve been recommending this course for several years, as I find it very intuitive.
Lidia´s Italy


A great Italian cooking book, with a diverse selection of Italian recipes that will takes the readers on a journey through some of the most beautiful areas of Italy and their grand culinary traditions.
EatingWell Magazine


EatingWell is the award-winning magazine that focuses on healthier eating habits for the entire family. EatingWell magazine features articles on subjects such as how to prevent weight gain during the holidays, foods that boost metabolism, healthy budget dinners, and dangerous ingredients that you may not realize you´re eating.